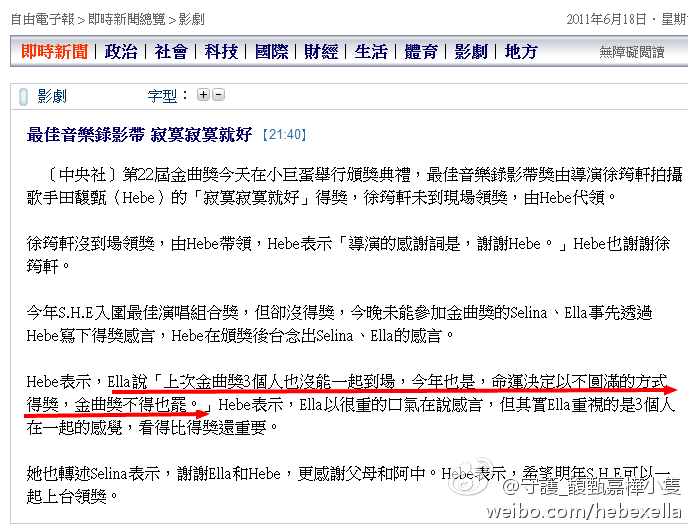 Ella said this year's Golden Melody Awards, S.H.E wasn't complete so that's why maybe it's fate that they didn't win. :(
---------------------------------------------------------------------------
Although S.H.E didn't won the Best Group Award in the Golden Melody Awards, they long won the Best Group Award in my heart :)
When I looked at the other nominees of the Best group award, I was pretty confident S.H.E will win. They've been in the music industry for years already. They maybe in hiatus status as a group now because Selina is still recovering, but they long have been giving good music and inspiration to the people.
Maybe the award was just not meant for them. Maybe the right time to receive this award is when Selina is fully okay and S.H.E will all be present. Maybe the right time to receive the award is when they can say "Da jia hao, wo men shi S.H.E" completely and give out each of their short messages to the public.
There's still next year! By that time, hopefully, Selina is back! By that time, S.H.E surpassed another great challenge as a group again. By that time, many people will salute to their strong bond not only as a group, but as sisters.
S.H.E, I will patiently wait for the three of you onstage. Looking forward to the three of you, all present, to receive the Best Group Award :) You're the best ;)